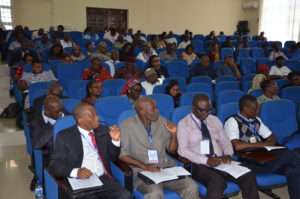 No fewer than 175 members of the Anti-Corruption and Transparency Monitoring Units in Ministries, Departments and Agencies of government have converged on the Anti-Corruption Academy of Nigeria, Keffi for a three-day training programme designed to enhance integrity systems in Nigeria.
The 175 members drawn from different agencies of government will be deliberating on how to design, implement and manage integrity systems in their operations.
In the next three days, the participants will be engaged with various topics ranging from: The Integrity Imperative in MDAs; The Concept and Import of Integrity Systems; Identifying and Mitigating Risks to Entrenching Integrity in MDAs.
Other topics lined up for the training include: Entrenching Ethics and Integrity in the Processes and Procedures of MDAs, Administrative Measures for Controlling Corruption in MDAs, Designing, Monitoring and Managing Integrity Systems in MDAs, Incentives and Ethical Compliance in MDAs, and Designing Ethical Code for Organisations.
Seasoned certified Corruption Risk Assessors have been carefully selected from the ICPC to lead discussions during the three-day training programme.
Declaring the training programme open, the Deputy Provost, of the Academy Mr. Matthew Ameh, who stood in for the Provost, Prof. Sola Akinrinade charged the participants to be active in the course of the programme so that they can go back to their various organisations and effect the needed change Nigerians are yearning for.