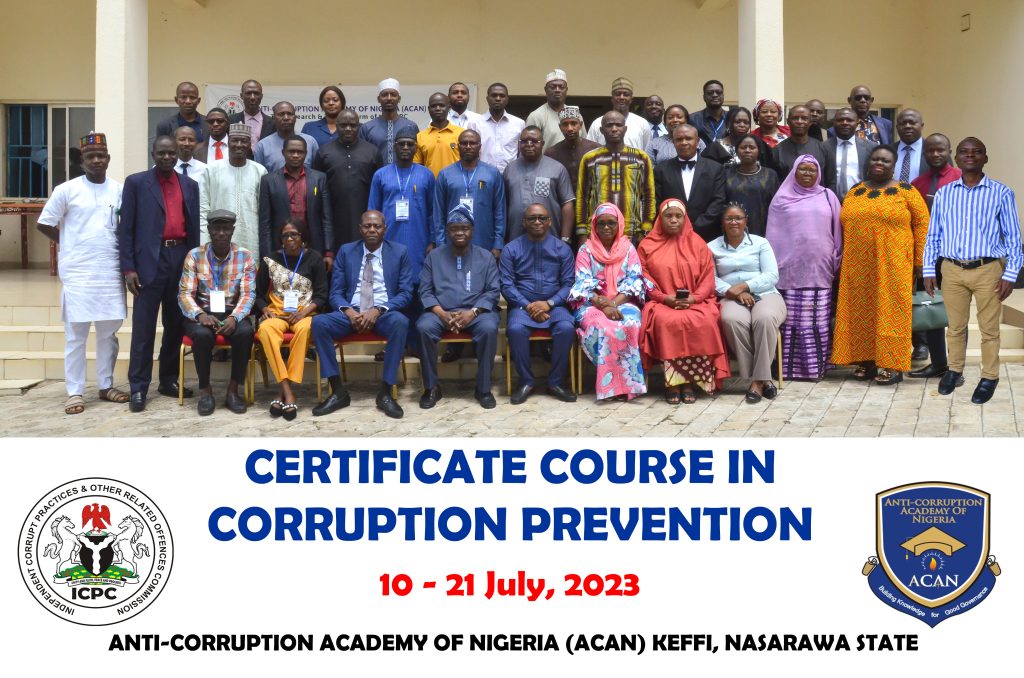 Over twenty-five (25) participants drawn from over ten (10) Ministries Departments and Agencies converged on the premises of the Anti-Corruption Academy of Nigeria in Keffi, for a 2-week CERTIFICATE COURSE IN CORRUPTION PREVENTION (CCCP).
The training programme which held from 10th – 21st of July 2023, targeted at officials of Anti-Corruption Agencies, Members of ACTU, Compliance Officers, Regulatory Officers and Officers in Fraud and Corruption Prevention Related Functions. It sought to equip participants with the required knowledge and skills be able to prevent, detect and investigate corruption in their various MDAs.
The two weeks training course embodied topics on; Understanding Corruption and Anti-Corruption, Detecting Corruption, Response Strategy, The Behavioral Change Approach, Corruption Risk Assessment, CRA, System Study and Review, Basics of Investigation, among others.
At the end of the programme participants expressed delight at the new dimensions of addressing corruption in the workplace which they had been exposed to. They promised to apply new skills learnt to preventing corruption in their little corners.
Provost of the Academy, Prof. Olatunde Babawale thanked participants for the high level of discipline exhibited throughout their two weeks stay at the Academy.